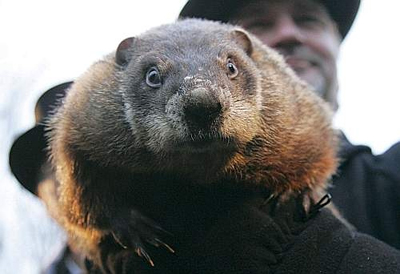 While the world (or rather, North America - does anyone else have this odd lore?) waits with baited breath to see what the groundhog will fortell tomorrow at dawn in respect to our Winter weather - us pagan folk are celebrating the return of the light.
"
In the northern hemisphere the time around February 1-2 is a potent time. On the Celtic wheel of the year it is Imbolc (meaning "in the belly" and also refers to the lactation of the ewes), which is one of the cross-quarter days falling between the Solstice and the Equinox. Imbolc marks the first day of spring in Ireland, the time when the very beginning of earth's stirrings and awakenings from winter can be witnessed. As the days slowly lengthen and the sun makes her way higher in the sky, the ground beneath our feet begins to thaw. The earth's belly softens and the seeds deep below slowly rumble in the darkness. New life is getting ready to sprout forth
." – Christine Valters Paintner, Patheos
(via Jason at
www.thewildhunt.com
)
Regardless of what Punxsutawney Phil, that famous rodent prognosticator says, we will be breaking bread and toasting to the stirring of the earth. While much of the earth - including you poor Easterners is still under a foot or more of snow - here in the West we are seeing small signs of life.
Although I am hoping for an early Spring, my brother (a winemaker at a local vineyard/winery) tells me that my longing for warm days could be a curse for his industry. The orchardists and viniculturists are watching the trees and grape vines to ensure we don't get too early a bud-opening, because we are prone to late frosts which could destroy crops.
It's a real balancing-act that Nature is working through at this time of year. I suppose I can deal with a few more cold days - if only to ensure a really good wine this Autumn!
I do wish you all a wonderful February and a blessed Imbolc. Happy Candlemas, Groundhog Day and St. Bridget's Day to all those who celebrate on whatever day you celebrate on! (For those who want to know astronomically which day Imbolc falls this year, check out
http://www.archaeoastronomy.com/
)
Also - if any of you get to Punxsutawney, PA, let me know how it was. I've always wanted to go!
(Picture of "Phil" from
http://www.groundhog.org/
)